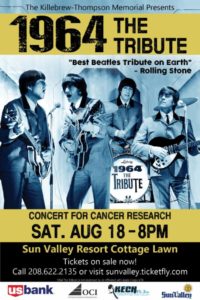 Featuring "1964… The Tribute"
Grab your dancing shoes and join us on the Sun Valley Resort Cottage Lawn for the legendary Beatles tribute band, "1964… The Tribute"! Named 'the best Beatles tribute band on Earth' by Rolling Stone magazine, "1964" recreates the early '60s live Beatles concert complete with period instruments, clothing, hairstyles, and onstage banter with an uncanny accuracy that will take you back in time.
New this year, VIP ticket sales will be exclusive to Killebrew-Thompson Memorial participants and concert sponsors. For $200, a VIP ticket offers premium, center stage seating and access to the groovy "VIP Lounge" where you can enjoy a great view of the stage and hosted drinks and hors d'oeuvres throughout the concert!
Premium level seats and General Admission lawn tickets are also available. To purchase tickets, call the KTM office at 208-726-1049 or email stephanie@ktmgolf.com.